Select language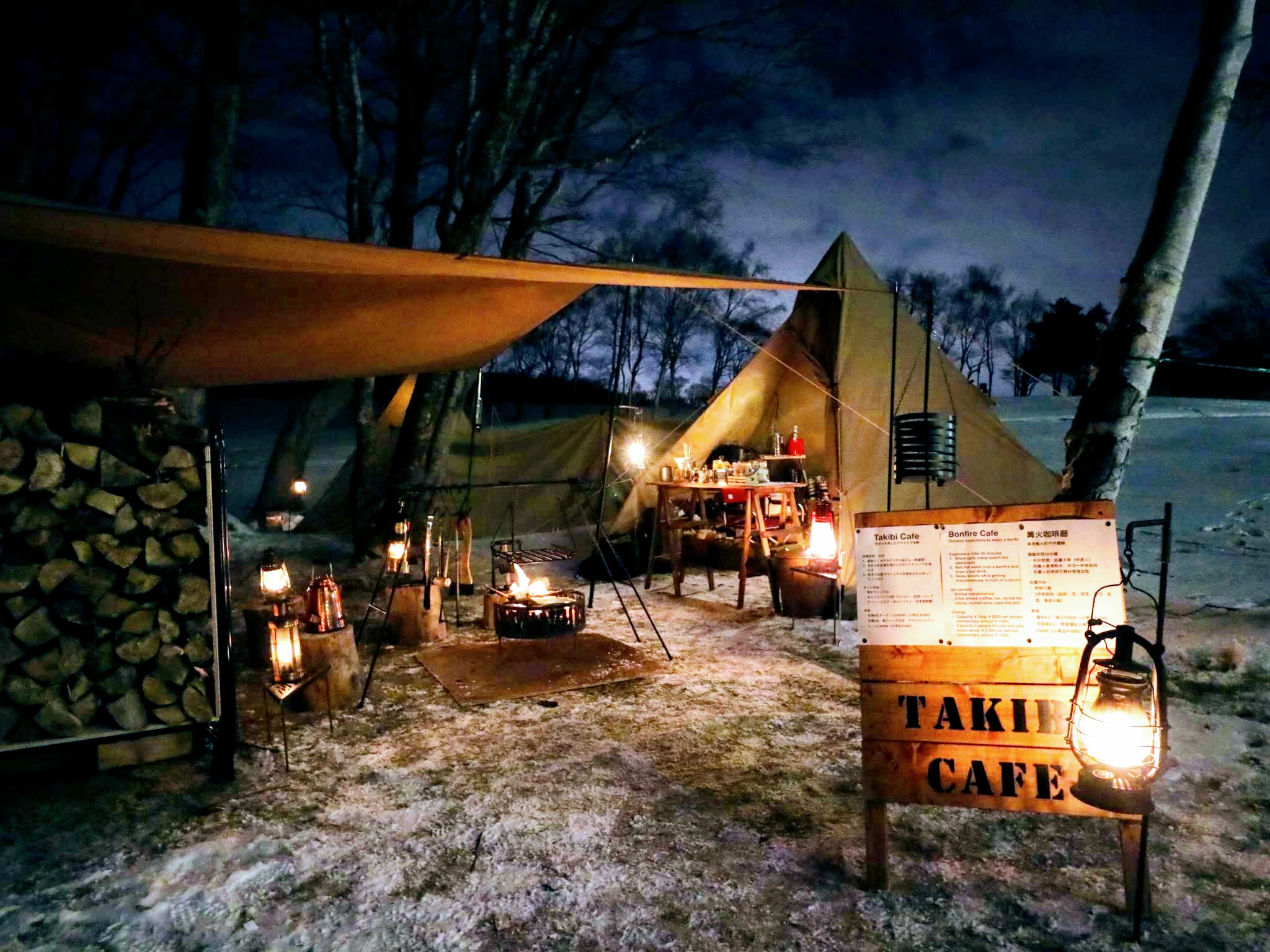 Please join us for Winter Outdoors Experience Plan (Camp fire Café) at the Snow Park in Kitahiroshima Classe Hotel for a limited time! As Camping is getting popular lately, Camp fire is gaining more attention, but it sounds a lot of work getting ready for camping, preparing all the tools, and sleeping outside in this cold weather sounds ridiculous. Listening to those voices, we offer this "Genuine, yet Romantic and Cozy" Camp fire Experience. This plan is great for those "Outdoors Beginners", allows you to join even after relaxing at hot spring in the hotel.
Details for Camp fire Experience
It is simple, easy and cozy, and fully equipped. The staff will demonstrate how to, so nothing to worry.
1, Wood chopping and Making fire
Chop the firewood into small pieces. Thick firewood won't catch fire. Using "Kindling Cracker" will be easy and safe to chop the firewood even for kids.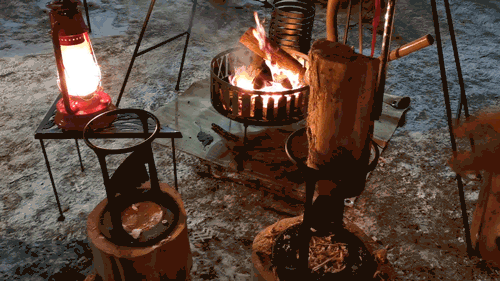 After preparing the firewood, set a fire with "Metal Match" which looks like a flint. For advanced, "Feather Stick" can be used.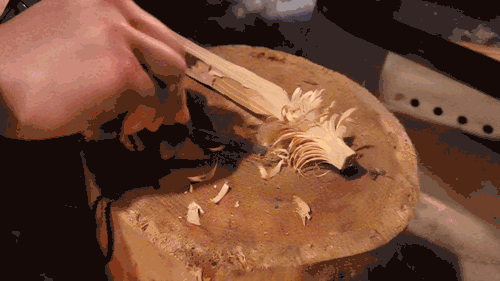 2, Making Coffee with Camp fire
Let's Boil hot water with the fire you just made. You can make your favorite hot drinks such as Coffee, Tea, Herbal tea, Cocoa, Hot wine, and Japanese sake. There will be refill too.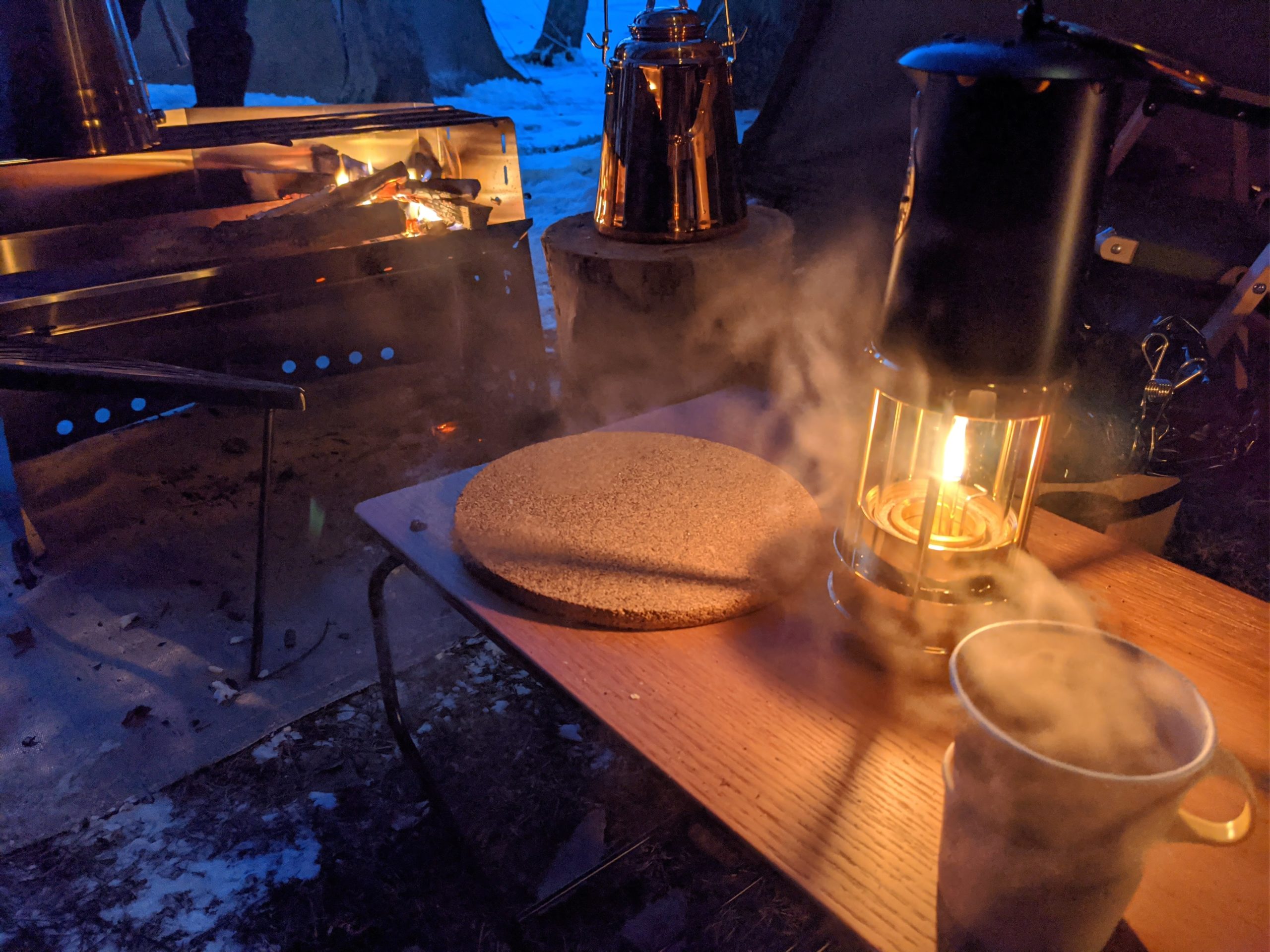 3, Cozy time with Camp fire
Most importantly, Let's just relax and space out staring at the fire. Just empty your mind and thoughts. Enjoy your relaxing time with hot drinks, roast marshmallows, and putting woods into the fire.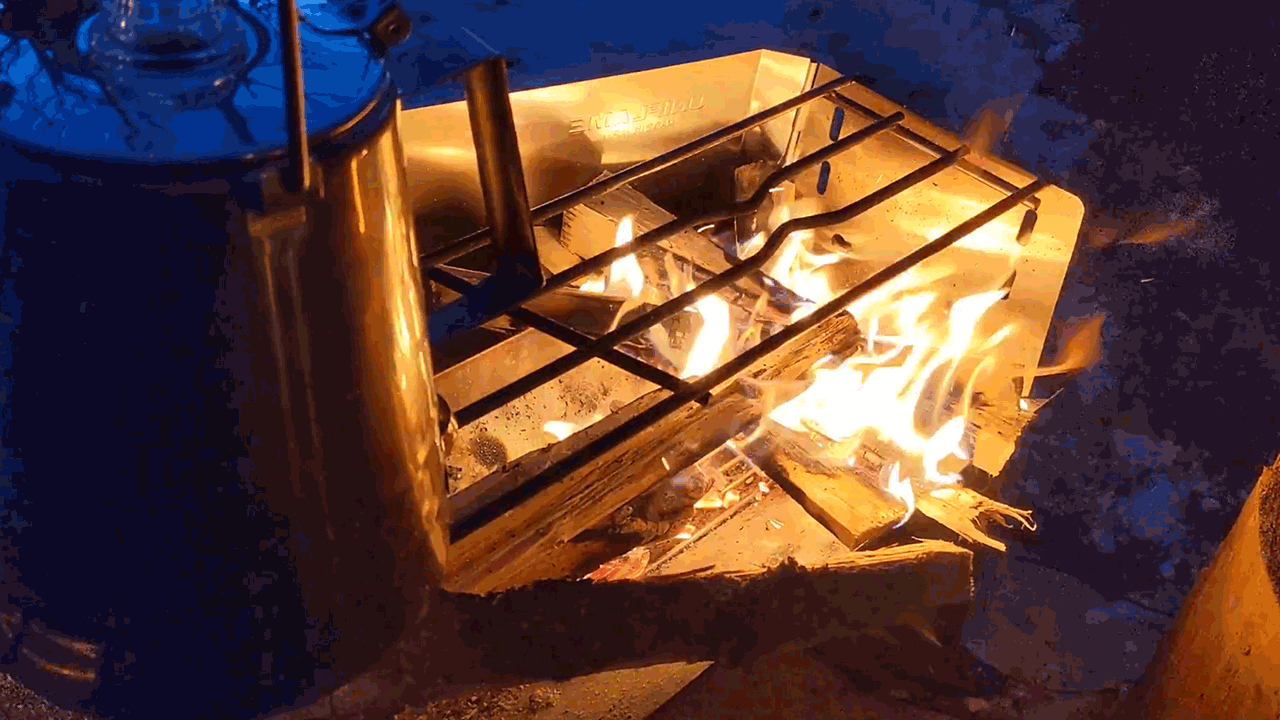 Admissions
50min, 3,000JPY per person (1,000JPY for elementary school students /free for under preschool children) Include: Firewood, 2 Hot Drinks, Marshmallows, Blankets, Camp fire Poncho, and other equipment Max Capacity: 4people (Due to tent size) ⇒Reservations
Great points for Beginners also Photogenic
If you are Outdoor Beginners and interested in Outdoor experience, this plan is definitely for you.
1, Camp fire in a lovely Teepee Tent Just for you
At the Camp fire, you will have your own Teepee tent. The tent is resistant to fire, so you can enjoy Camp fire inside of the Teepee Tent without freezing. It will fit for 1 to 4 people.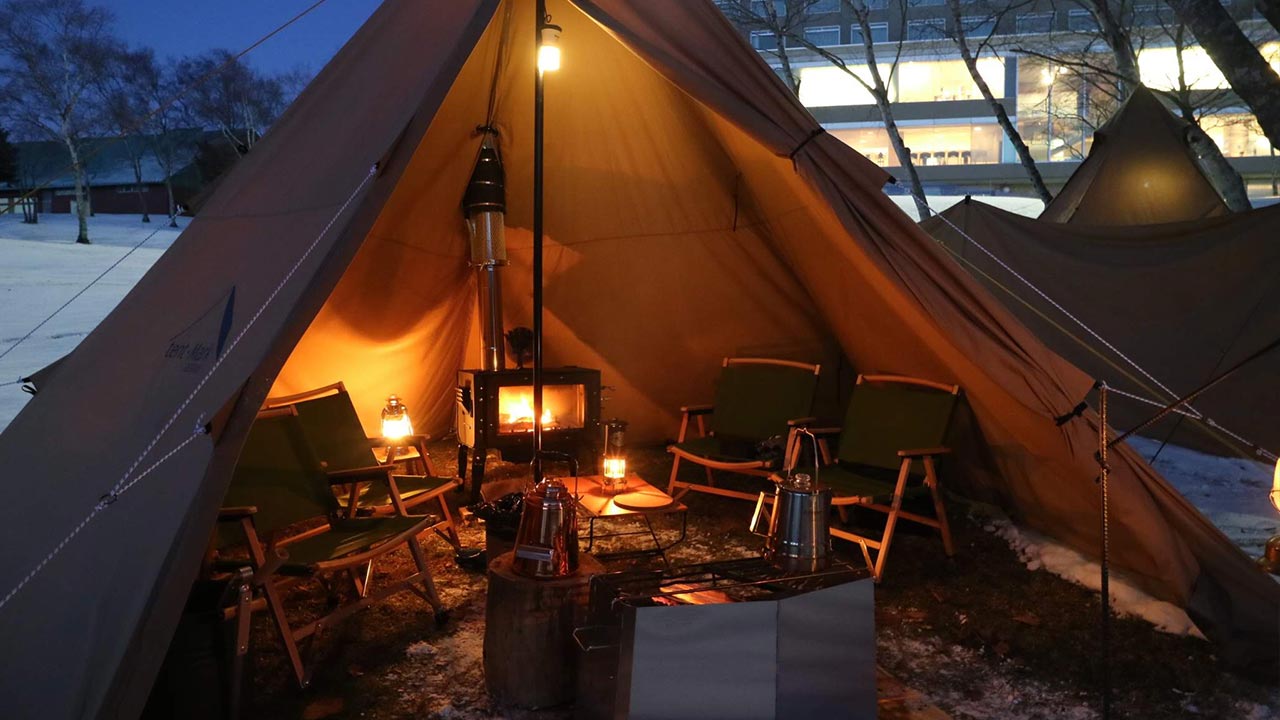 2, Cozy in the Tent with a Wood Stove
It will be cold anyway? Don't worry, there is a wood stove in the tent. We can switch from Camp fire to the wood stove and shut the tent, it will be warm and cozy. Enjoy the snuggling time with your friends/family.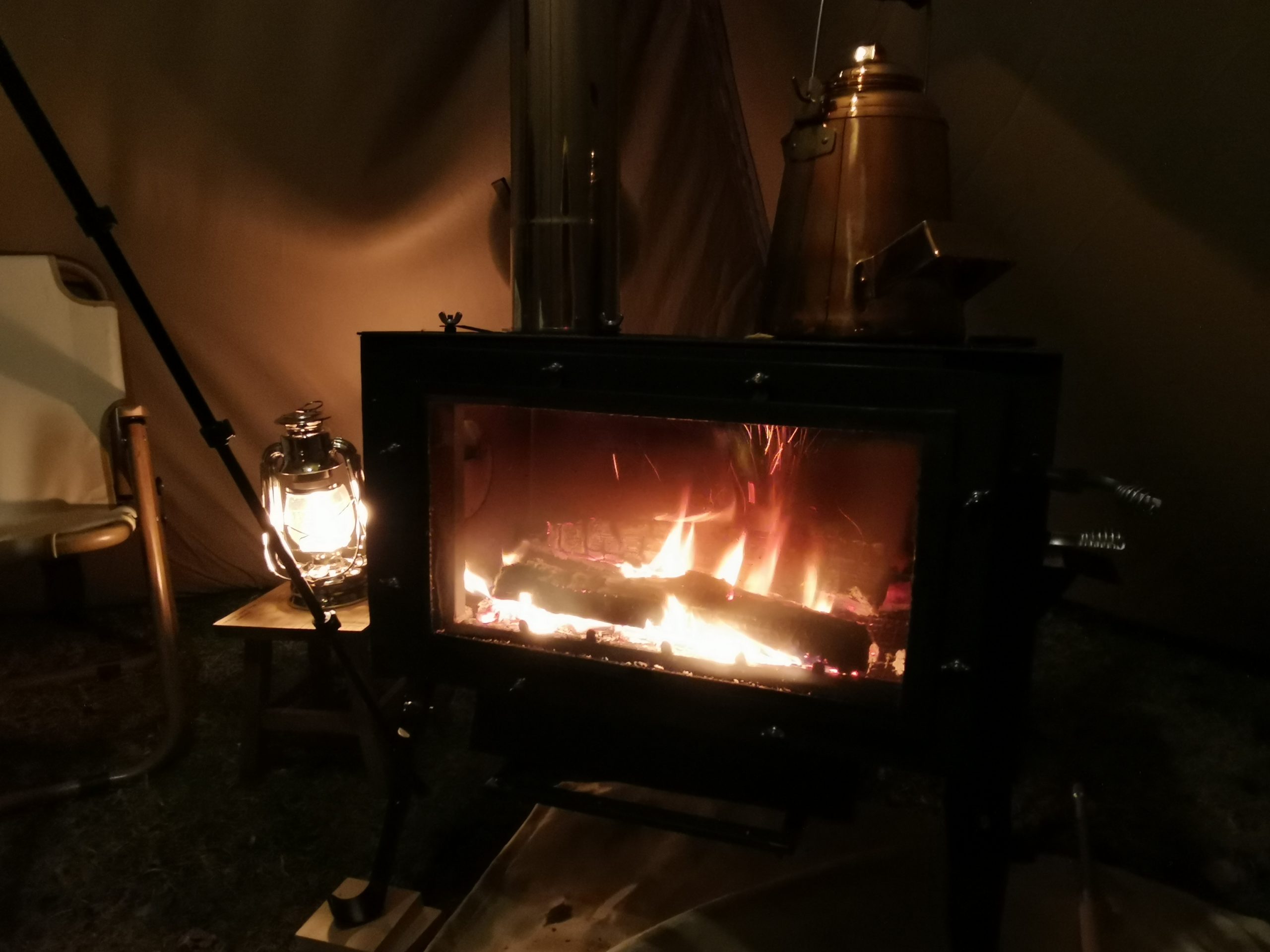 3, Camp fire Poncho and Blankets Rental
You can rent fire resistant Poncho for free. It will prevent your clothes from smell of the smoke and sparks from Camp fire. So that you can enjoy without worrying burning your clothes. Our cotton Pendleton blankets will be cuter and warm too; it will also protect your clothes from burning.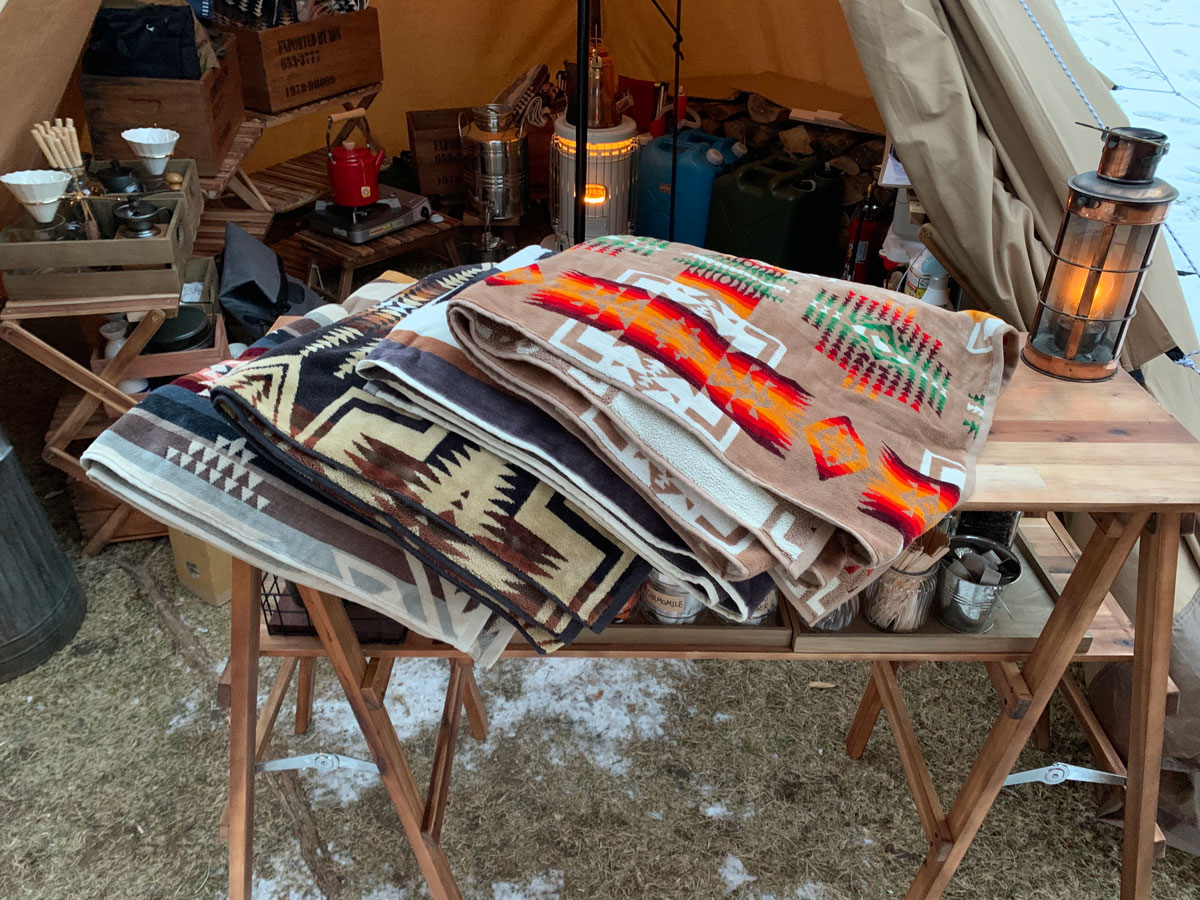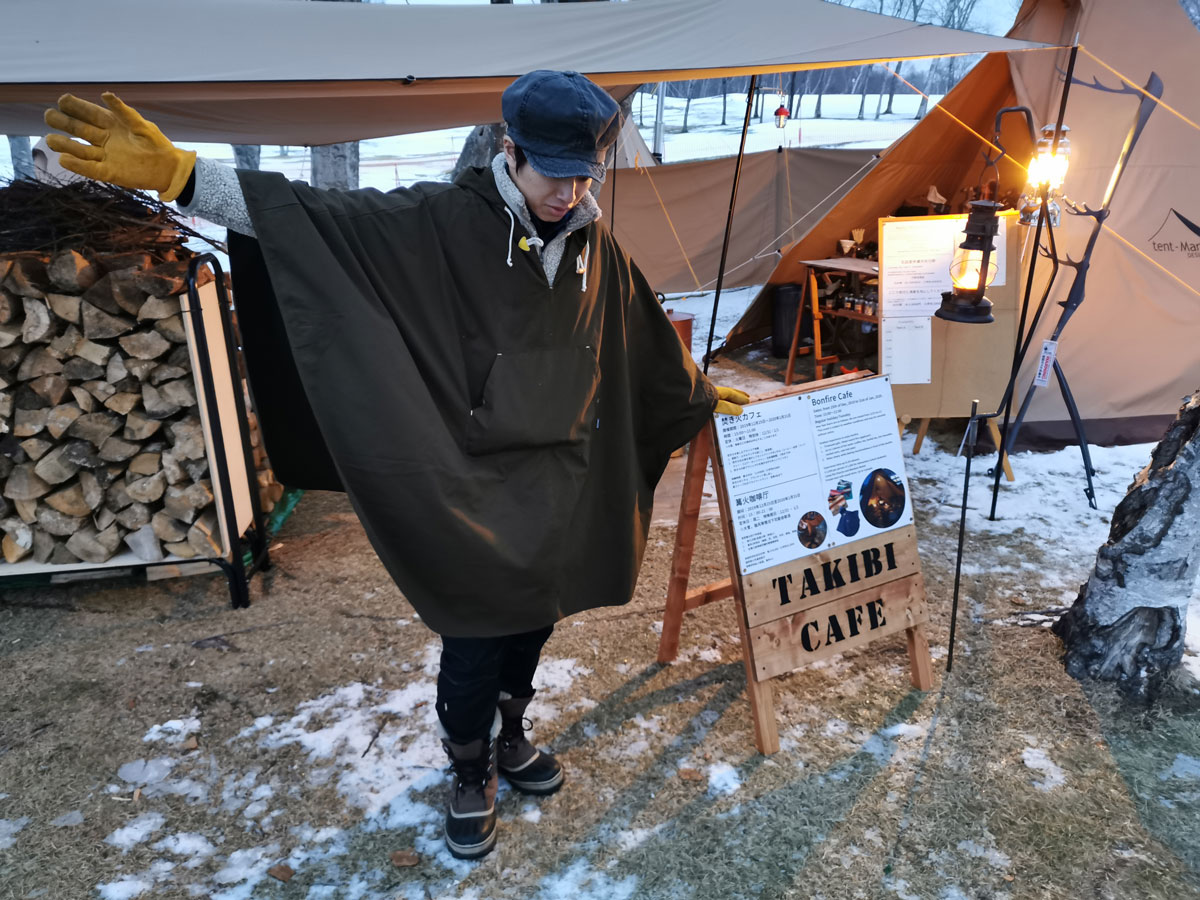 4, Calming Oil Lantern light
Most attractive thing at Camp fire Café is the authentic Fire, so the lighting should be more natural than LED light. Oil Lantern with the snow will be magical, nostalgic and photogenic.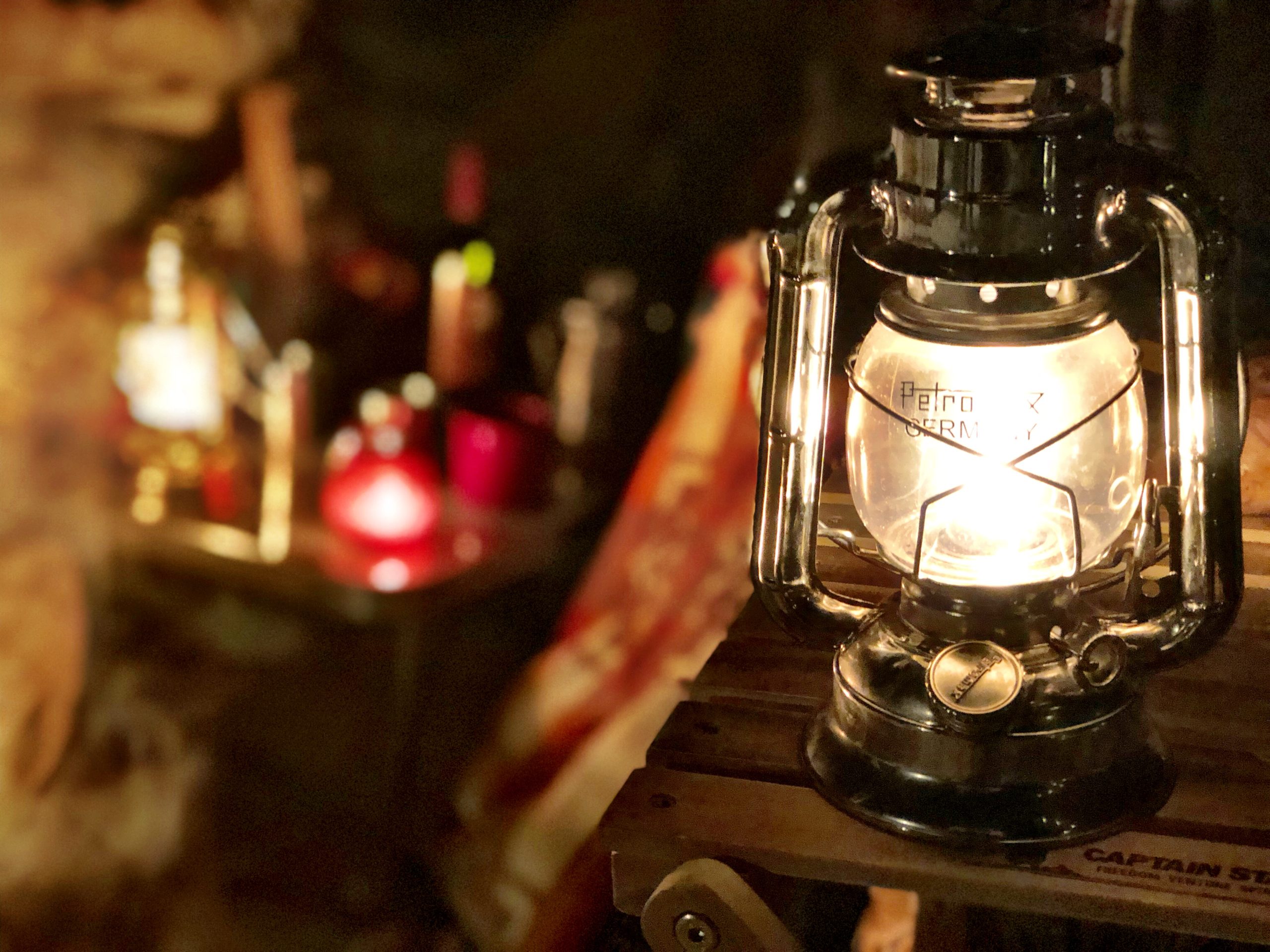 5, Wild and Awesome Gear
The equipment at Camp fire Café will be different from those general luxury Glamping ones. Ours will be wilder and more adventurous, you will enjoy extraordinary experience that you will almost feel like you are in an adventure movie.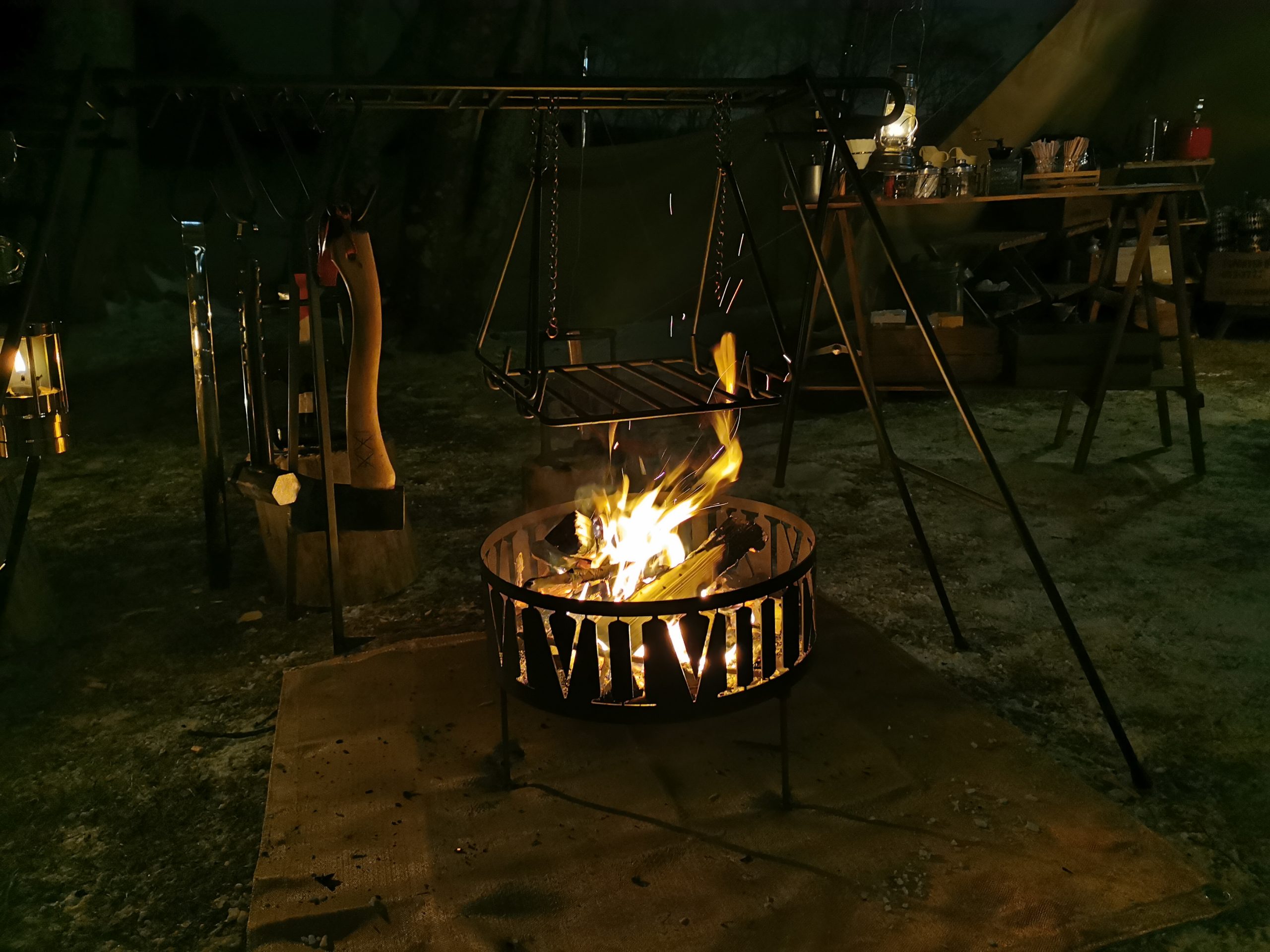 Notes
There will be risk of burn. Please keep out children from fire and the stove. We may refuse to offer services if person is drunk. The event might be cancelled due to the weather condition. Please be noted that down jacket or polyester jacket will be easy to burn and make halls by the sparks. We offer you the Poncho and Blankets; however, it won't be 100% protection. We are not responsible for any injury, accident, lost of your belongings, damage or any other trouble.
Period
Dates: from 25th of Dec, 2019 to 31st of Jan, 2020. Time: 15:00~21:00 New Year hours are as follows: We are closed from 12/31 to 1/1 *This event is subject to weather conditions and may be canceled without notice. Cancelation will be informed by email or telephone ⇒Book Here
Location
Kitahiroshima Classe Hotel 316-1 Nakanosawa, Kitahiroshima, Hokkaido 061-1101 URL:https://kitahiroshima.classe-hotel.com
Access
By Car
8min from JR Kitahiroshihma station 10min from DO-O EXPRESSWAY Kitahiroshima IC 40min from JR Sapporo Station 40min from New Chitose Airport
By JR
Take the train bound for Sapporo, Teine, Asahikawa, get off the train at Kitahiroshima. (All rapid trains stop here) Exit the station via the West exit. There are shuttle busses at the end of the taxi stand. It will take about 10 minutes from the Kitahiroshima station to Kitahiroshima Classe Hotel. ⇒Book Here
FAQ
Q. Isn't it Cold? A.It will be cold! But inside the tent will be warm. It will be even warmer with the wood stove in the tent. Q. What to wear? A.Please wear warm clothes. Please be noted Camp fire will have sparks, so recommend wearing natural fabric such as cotton and wool to avoid getting your clothes burning. We also offer Fire resistant Poncho and blankets for free. Q. Isn't it difficult to chop woods and making fire? A. No, it is easy! You can use our special equipment, and you will be hooked. Also, our staff will fully instruct. Q. Can we grill or cook with Camp fire? A.No, We are Café style Camp fire, please enjoy hot drinks and roast marshmallows and relax. Q. Can we drop in without reservation? A.Yes, If there is availability. Q. We are more than 4 people A.Up to 6 people can be accommodated; however, you won't be able to sit around the Camp fire. Q. Can we use 2 tent? A.It will be 1 tent per group. If more than 4 people, we can offer another tent and it will be 4m away. Q, Can we bring our own food? A.Yes, but you cannot cook it with the Camp fire. Snacks will be fine. Please be responsible with alcohol beverages, and please take your trash home with you. Q. Is there a bathroom? A.Yes, you can use the bathroom inside the hotel. Q. Can I join by myself? A.Of course you can! You can bring your favorite books and spend time like at usual café.
Reservations
Book in advance for great experience! With reservation, we can accommodate you smoothly. Book through below web page.